New Hope Charity Events
We run many events throughout the year to fundraise to enable us to continue our work at New Hope.
See the tabs below for Future & Previous events.
If you are interested in attending any of our events please email Jean on  or call us on 01905 355 295.
If you are interested in sponsoring an event or fundraising for us in your own way please contact us also on the above details.
To view pictures, etc from past events please go to our News & Galleries.
Thank you
Smart car Raffle
Come one Come all and enter the chance to win your very own little smart car, for the price of a £2 raffle ticket you could be zipping around your home town in this very niffty little car.
To buy your tickets to be in with a chance of winning please go to www.newhopeworcester.bigcartel.com or click the picture below and this will take you to the website where you can but as many tickets as you wish.
We at New Hope thank you very much.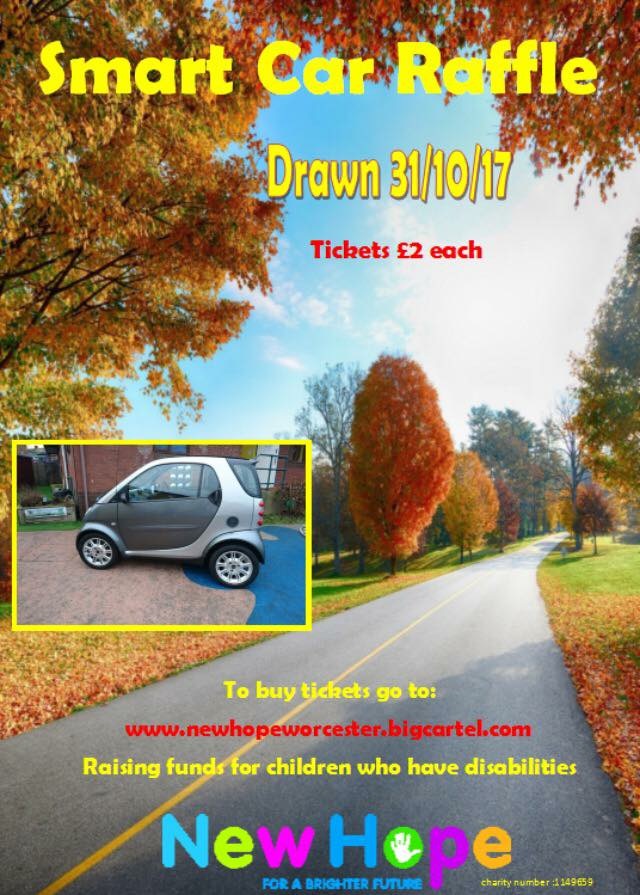 CHARITY PRIZE BINGO
So much fun to be had at our BINGO night on saturday 27th May at 7pm till 10.30pm.
For the price of a £10 ticket you will receive entry to the stunning views of worcester that the SKY LOUNGE at night has to offer and a classic chip buttie.
There will also be refreshments and you could try your luck on our bottle TOMBOLA.
If you would like tickets to the event then please feel free to e-mail jean.wilson46@yahoo.co.uk or ring us on 01905 355295
Hope to see you all there for lots of bingotastic fun.